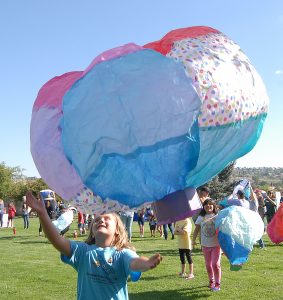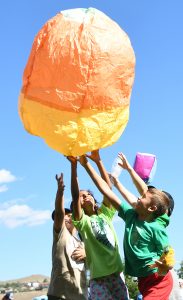 Greetings Teachers –
The Great Reno Balloon Race invites your 5th grade classroom to discover the wonders and excitement of lighter-than-air flight by participating in the Tissue Paper Balloon Launch taking place on Friday, September 8, 2023 at 9:30 a.m. at Rancho San Rafael Regional Park. Registration is required via https://bit.ly/GRBR23_TissuePaper
Project Description:
In the weeks leading up to The Great Reno Balloon Race, your class will construct a model hot-air balloon out of tissue paper following a prescribed set of directions.  Your class will then join hundreds of other students from around regional school districts on the morning of Friday, September 8 to launch their balloons.
Reimbursements:
Reimbursements are limited to one dollar ($1) per student and to the following items: tissue paper, construction paper and glue. Please email/mail a copy of your receipt in order to receive reimbursement. We must have these in by October 31. If you looking to get your bus transportation costs covered, you wil need to have registered for the event before September 1. If approved, you will send us the invoice once you have received it, and we can work with the transportation department directly to get it paid.
Thank you for your interest and we look forward to seeing your balloons on the field!
Please click HERE for the Teacher Approval Form
Please click HERE for instructions on building a Tissue Paper Balloon
Please click HERE for a video detailing how to make a Tissue Paper Balloon
Thank you to the E.L. Cord Foundation for making this program possible.